<![if !vml]>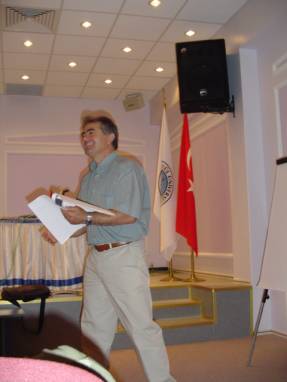 <![endif]>
Prof. Dr. İsmihan BAYRAMOĞLU
(Ismihan Bairamov)
Department of Mathematics
Izmir University of Economics

Research Areas: Theory of Probability Theory of Statistics Stochastic Processes Nonparametric Statistics Characterization of Distributions Record Theory Multivariate Distributions and Copulas.
Courses given:Calculus
Fundamentals of Mathematics
Statistics Theory of Probability and Mathematical Statistics Theory of Nonparametric Statistics Stochastic Processes Theory of Copulas Assymptotic Theory of Order Statistics Advanced Statistics
Education
Ph.D., Faculty of Cybernetics, Department of Applied Mathematics, Kiev State University, 1988
M.S., B.S. , Faculty of Applied Mathematics, Azerbaijan State University, 1981

Award: Science Prize of Ankara University, 2000-2001
Elected member: International Statistical Institute (Fellowship 1999)
<![if !supportLineBreakNewLine]>
<![endif]>
Member of the Editorial Board:
The Open Statistics and Probability Journal, Bentham Open
Selçuk Journal of Applied Mathematics
 Associate Editor:
Communications in Statistics-Theory and Methods Taylor and Francis
Communications in Statistics Simulation and Computation. Taylor and Francis.
Journal of Applied Statistical Science, Nova Science Publ.USA;
Journal of Statistical Theory and Applications, Gowas Publ., USA
Journal of Advanced Research in Statistics and Probability. Institute of Advanced Scientific Research
Journal of Statistics: Advances in Theory and Applications. Scientific Advances Publishers
Editor in Chief
İSTATİSTİK. Journal of the Turkish Statistical Association.
Guest Editor::
1. Communications in Statistics-Theory and Methods. Volume 36, Issue 7, 2007
2. Journal of Computational and Applied Mathematics, Volume 235, Issue,16, 2011
(with O.L.Gebizlioglu and Ersan Akyıldız)
PUBLICATIONS
PhD Students:
Dr. M. F. Kaya (Currently as Professor at Selcuk University)
Dr. N. Ozkaya (Currently as Assistant Professor at Ankara University)
Dr. G. Arslan (Currently as Assistant Professor at Izmir University of Economics)
Dr. S. Eryılmaz (Currently as Professor at Atılım University)
Dr. M. Bekçi (Currently as Associate Professor at 19 Mayis University)
Dr. Halil Tanıl (Currently as Assistant Professor at Ege University)
Dr. Selma Gürler (Currently as Associate Professor at Dokuz Eylül Univrsity)
Dr. Burcu Hudaverdi (Currently as Associate at Dokuz Eylül University)
Dr. Tuğba Özkal (Currently as Assistant Professor at Dokuz Eylül University)
Dr. Özge Elmastaş  (Currently as Assistant Professor  at Ege University) 
Dr. Olcay Bozkurt (Currently as Assistant Professor at Sinop University)
Dr. Göknur Giner (Currently at Melbourne University, Australia)
Dr. Gülder Kemalbay (Currently as Assistant Professor at Yıldız Technical University)
Dr. Femin Yalçın (Co supervisior Prof. Dr. Serkan Eryılmaz, Currently as Assistant Professor at Katip Çelebi University)
Dr. Cihangir Kan  (2015)(Co supervisior Prof.Dr. Serkan Eryilmaz)
Dr. Murat Özkut (2015)
Positions Held
Dean, Faculty of Sciences, Izmir University of Economics 2001-present. (Chair, Department of Mathematics, IUE, 2001-2013) Professor Department of Statistics, Ankara University 1993-2001, Leading Scientist Azerbaijan National Aerospace Agency, Lecturer Azerbaijan State University, 1989-1993, Senior Scientist Azerbaijan National Aerospace Agency 1983-1989, Assistant Scientist Azerbaijan Academy of Sciences, Institute of Cybernetics 1981-1983
International Conferences
devoted to Order Statistics
<![if !supportLineBreakNewLine]>
<![endif]>
 OSDA-2012, Universidad de Murcia, Spain
 OSDA-2010, Zagazig University, Egypt
OSDA-2008, RWTH Aachen, Germany
OSDI 2007, Amman, Jordan
OSD 2006, Mashhad, Iran
OSD 2005, Izmir, Turkey
OSD 2002-04,Warsaw,Poland
 OSEV 2000, Mysore (India)
Links: Journals
The Electronic Library in Mathematics
<![if !supportLineBreakNewLine]>
<![endif]>